Serienummers
Seriennummern
Serial numbers
Elk Johannus orgel heeft een individueel serie nummer dat belangrijke informatie bevat.
Het serienummer is geprint op de serieplaat, die zich onderop de speeltafel bevindt.

Vermeld altijd het serienummer bij bij informatie of service aanvragen.
Jede Johannus-Orgel hat eine individuelle Seriennummer, die wichtige Informationen enthält.
Die Seriennummer ist auf dem Typenschild aufgedruckt, das sich unter den Tastaturen befindet.

Geben Sie immer die Seriennummer an, wenn Sie Informationen oder Service anfordern.
Each Johannus organ has an individual serial number that contains important information.
The serial number is printed on the serial plate, which is located underneath the keyboards.

Always provide the serial number when requesting information or service.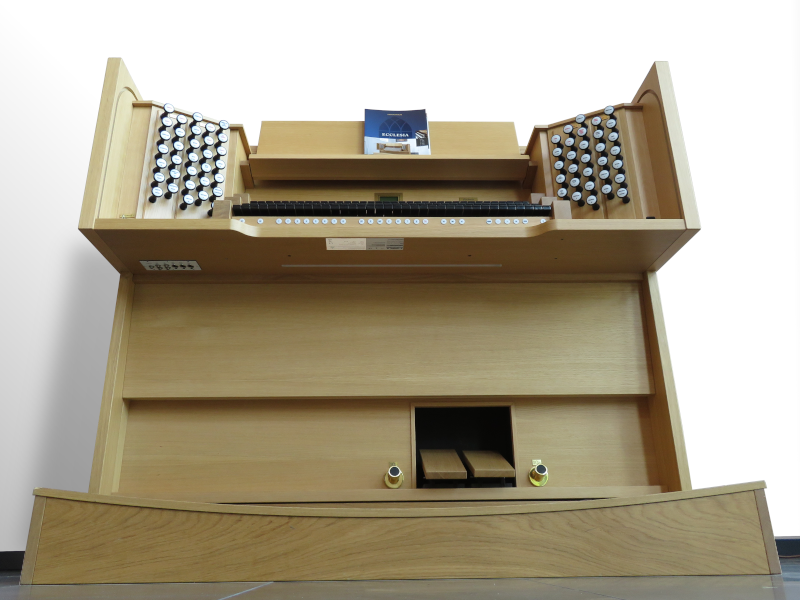 Informatie
Information
Information
Op de serieplaat staat:
type orgel
serienummer
vermogen
spanning
Auf dem Typenschild steht:
der Orgeltyp
die Seriennummer
die Leistung
die Spannung
The serial plate states:
organ type
serial number
power
voltage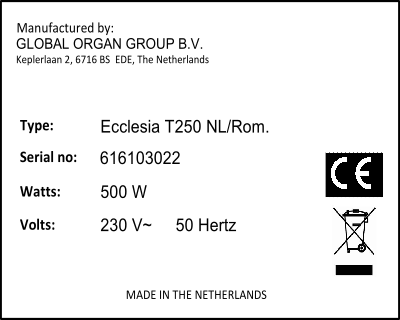 Formaten
Formate
Formats
Door de tijd heen is het serienummer formaat veranderd. Zie tabel.
Im Laufe der Zeit hat sich die Seriennummer geändert. Siehe Tabelle.
Over time the serial number format has changed. See table.
used from/to
format
example
explanation
2006 .. now
Ordernumber/Week/Year
616103022

61610 = ordernumber
30 = production week
22 = production year
2001 .. 2006
organType/Version/Subversion/Week/Year/Ordernumber
110C02030433799

110 = organ type
C0 = firmware
2 = subversion
03 = production week
04 = production year
33799 = ordernumber
1996 .. 2001
organCode/Week/Year/Ordernumber


Ordernumber can have 4 or 5 digits

33624979572
336 = organ code
24 = production week
97 = production year
9572 = ordernumber
1976 .. 1996
organCode - Order - Order
91-22-16
91 = organ code
22-16 = ordernumber
1971 .. 1975
Ordernumber
2167
2167 = order number
Last changed 2023-07-27
Please rate here
-